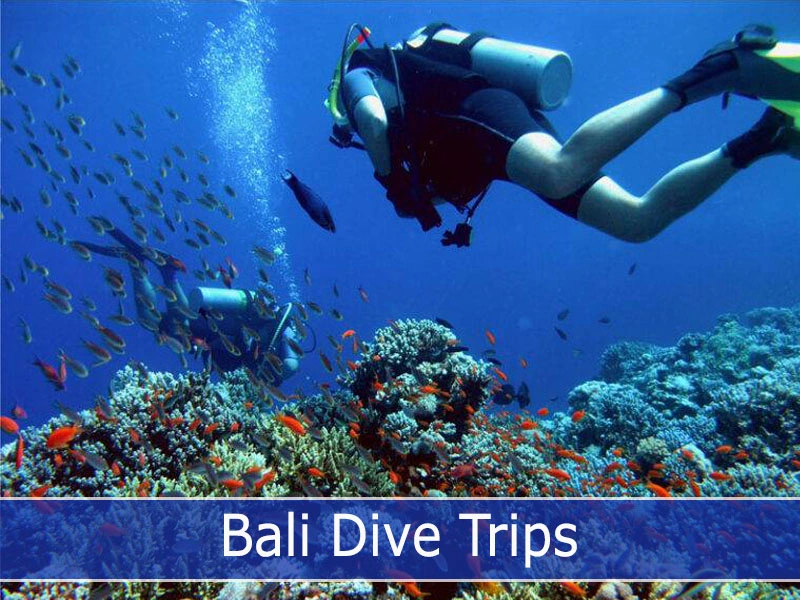 Bali is famous for scuba diving and it has a lot to give. Divers can spend several days diving in Bali and would not finish everything so we will present now the best Bali dive trips to maximize time and research.
As a general concept for Bali diving we will first look at the best dive locations on the island after which we will list down the best Bali dive sites.
Tulamben
Home to the famous USAT Liberty Shipwreck, Tulamben is Bali's best dive and a must-visit destination for wreck diving enthusiasts. The shipwreck attracts a myriad of marine life, making it an excellent spot for underwater photography.
As beautiful as the wreck is, Tulamben is also one of the best spots for macrophotography in dive sites such as: Seraya Secret or Melasti.
Because Tulamben is located on the east coast of Bali, for your Tulamben Bali dive trips it's ideal to stay in Tulamben or somewhere more near such as Sanur, instead of Kuta or Seminyak. From Sanur the average car trip to reach Tulamben takes approximately 2.5 hours.
The diverse marine life around the USAT Liberty Shipwreck and other dive sites in the area offer a variety of opportunities for underwater photographers and marine enthusiasts.
To exploring the shipwreck, you should definitely not miss the chance to go macrophotography diving in spots like Seraya Secret or Melasti.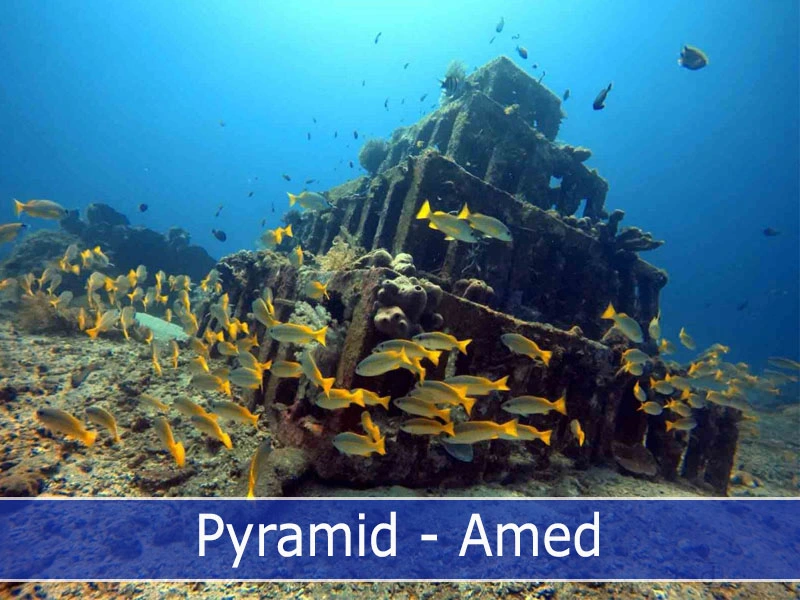 Amed
Amed is a tranquil coastal village located near Tulamben and it's known for its black sand beaches and thriving coral reefs. The sites here are perfect for beginners, with calm waters and a plethora of macro life.
The Bali dive trips to Amed can also be long if staying on the west coast of the island so Amed provides beautiful accommodation options.
Diving Tulamben and Amed together may take several days so that is why staying in the area of these two villages is not a bad idea.
Staying in the area of Amed and Tulamben for a few days is a fantastic idea for diving enthusiasts. Both locations offer unique underwater experiences that are worth exploring at a leisurely pace.
Let's delve deeper into what you can expect from diving in Amed and Tulamben.
Nusa Penida
Nusa Penida is the largest island of the three Nusa islands: Lembongan, Ceningan, and Penida, located in North East Bali. Famed for its crystal-clear waters and diverse marine life, Nusa Penida is most known for spotting the majestic Manta Rays and the elusive Mola Mola.
Bali dive trips to Nusa Penida, in Manta Point, are amazing day trips that generally start in the morning and finish back in Bali in the afternoon at Nusa Penida. One of the main attractions for divers in Manta Point at Nusa Penida is the chance to encounter the graceful Manta Rays. These magnificent creatures, with wingspans that can reach up to 20 feet, glide gracefully through the waters surrounding Nusa Penida.
Witnessing these gentle giants in their natural habitat at Nusa Penida is a truly awe-inspiring experience. Divers can often observe them swimming near cleaning stations, where smaller fish help remove parasites from their bodies.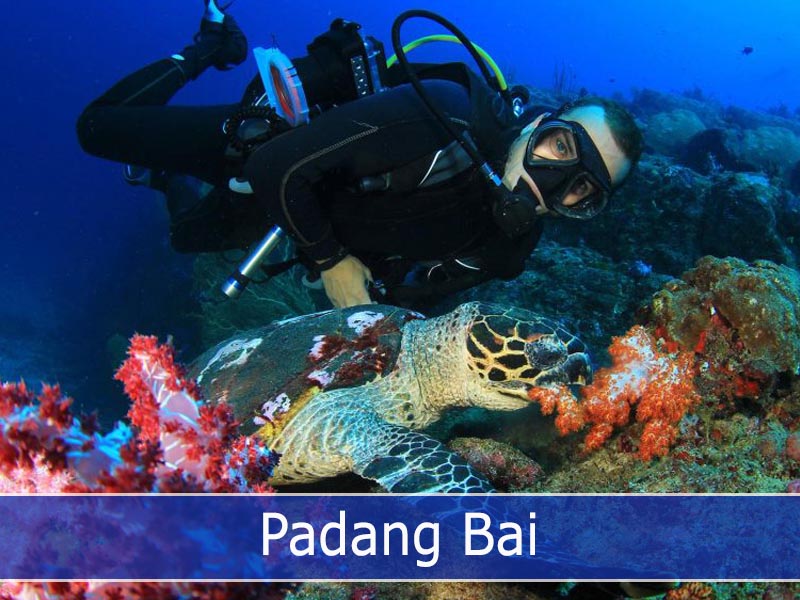 Padang Bai
A picturesque harbor town, Padang Bai offers a variety of dive sites suitable for all levels. Dive the Blue Lagoon, a shallow bay teeming with colorful fish, or explore the deeper waters of Shark Point and Jetty. These are just three of the 9 dive sites that provide for the Bali dive trips here.
is the easiest accessible dive location in Bali because of its relatively near location in the south-east corner of Bali. From Sanur, the Bali dive trips to take a short 1 hour car trip.
In the 9 dive sites available are all reachable by traditional spider boat called Jukung, an easy 5 minutes ride.
The Jukung, a traditional Indonesian spider boat, provides an easy and quick 5-minute ride to all the 9 dive sites available in Padang Bai. These boats are commonly used by local fishermen and divers alike to access the various dive spots in the area.
Best Time to Dive in Bali
Bali's diving season runs year-round, but the best conditions are between April and October which is basically the dry season. During this time, the waters are calm, and visibility can reach up to 30 meters although this is also the time when the water temperatures are the coldest in Nusa Penida and Padang Bai.
However, if you're keen on spotting the elusive Mola Mola in Nusa Penida, visit between July and October when they venture closer to the surface. But pack a 5mm wetsuit or a dry suit because the waters will be freezing cold.
Top Bali Dive Sites for Your Bali Dive Trips
Prepare for an unforgettable journey into Bali's enchanting marine world and create memories that will last a lifetime.
USAT Liberty Shipwreck, Tulamben
The USAT Liberty Shipwreck is a fascinating underwater attraction located off the coast of Tulamben, a small village in Bali, Indonesia. The shipwreck is a remnant of World War II history, making it a popular destination for divers and history enthusiasts alike.
USAT Liberty Shipwreck has become an exceptional artificial reef, teeming with marine life and vibrant coral formations.
Divers are treated to a surreal experience as they explore the ship's remains, with the bow lying at a shallow depth of about 5 meters and the stern reaching down to 30 meters.
Not only become an essential part of Bali's diving tourism but also serves as a poignant reminder of the island's wartime past. Over the years, it has captured the imagination of visitors who come to witness this captivating fusion of history and marine life.
Manta Point, Nusa Penida
Manta Point is a renowned diving and snorkeling site located off the coast of Nusa Penida, an island in Indonesia. This underwater wonderland is celebrated for its majestic manta rays that grace the area year-round. Divers and snorkelers flock to Manta Point to witness these gentle giants in their natural habitat. The site is famous for its crystal-clear waters and healthy coral reefs, creating an ideal environment for the mantas to thrive.
Manta Point's allure extends beyond the manta rays, as the area is teeming with a diverse array of marine life. Lucky adventurers might spot sea turtles, reef sharks, colorful tropical fish, and various other marine species that call this underwater paradise home.
Apart from its marine attractions, the scenic beauty surrounding Manta Point is awe-inspiring. The rugged coastal cliffs of Nusa Penida provide a dramatic backdrop for the adventures taking place beneath the waves.
Crystal Bay, Nusa Penida
Crystal Bay is a picturesque paradise located on the southwest coast of Nusa Penida, a beautiful island in Indonesia. It is renowned for its breathtaking natural beauty, crystal-clear waters, and pristine white sandy beach. The bay is aptly named due to the incredible clarity of its waters, which offer exceptional visibility for snorkeling and diving enthusiasts.
Crystal Bay also offers stunning vistas and a tranquil ambiance that draws visitors seeking relaxation and escape from the hustle and bustle of more touristy destinations. Surrounded by lush green hills and dramatic limestone cliffs, the bay offers an idyllic setting for leisurely sunbathing, beach picnics, and witnessing awe-inspiring sunsets.
Conservation efforts are also underway to protect the fragile marine ecosystem and preserve the pristine surroundings for generations to come. Whether you're an adventure seeker looking to dive into a marine wonderland or a nature lover seeking a secluded paradise to unwind, Crystal Bay offers a captivating and unforgettable experience that will linger in your memory long after you depart this hidden slice of heaven.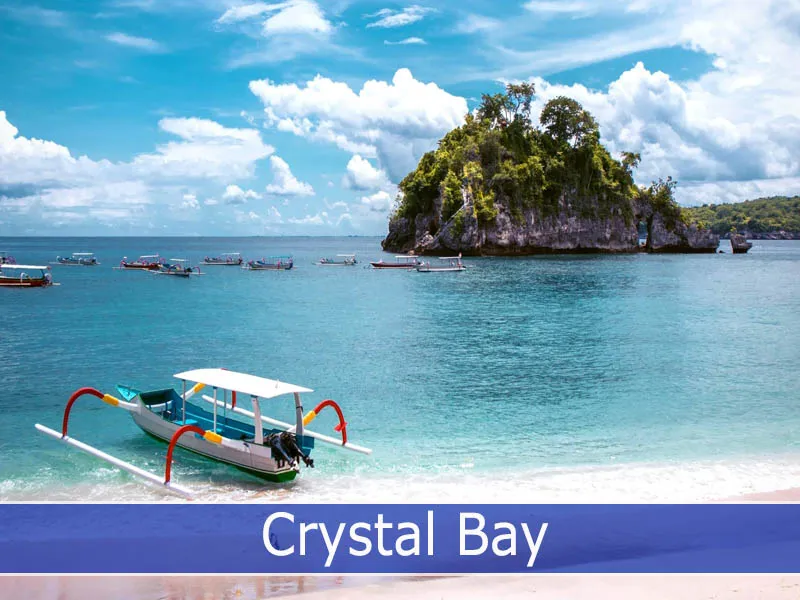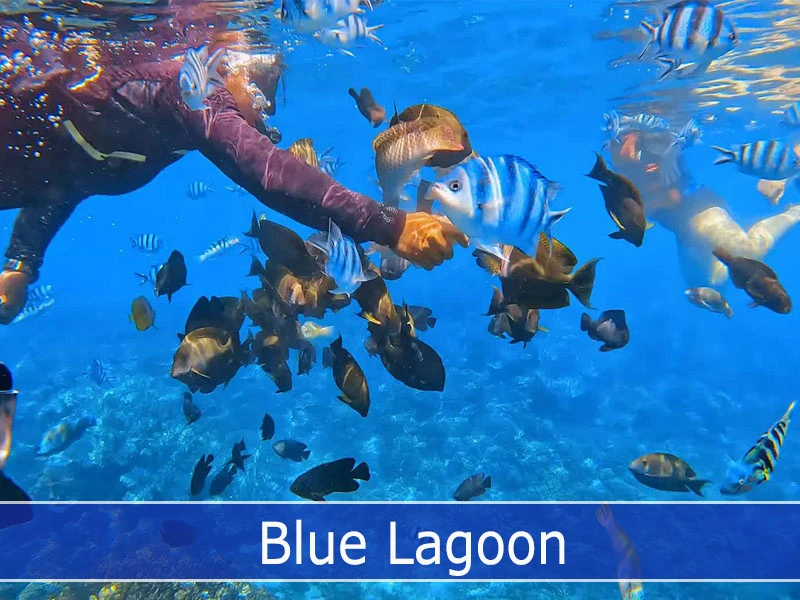 Blue Lagoon, Padang Bai
Blue Lagoon is a stunning coastal destination located in the enchanting village of Padang Bai on the eastern coast of Bali, Indonesia. Known for its breathtaking turquoise waters and pristine white sandy beaches, the Blue Lagoon attracts travelers seeking a peaceful and idyllic retreat away from the bustling tourist hubs.
Blue Lagoon is also known for its laid-back atmosphere and friendly locals. The surrounding cliffs and lush greenery create a picturesque backdrop, adding to the charm of the area. Visitors can enjoy leisurely walks along the shoreline, bask in the sun on the sandy beach, or simply unwind under the shade of swaying palm trees.
Blue Lagoon in Padang Bai remains a must-visit destination for those seeking a slice of paradise and an opportunity to immerse themselves in the wonders of Bali's coastal charm.
Jemeluk Bay, Amed
Jemeluk Bay is a captivating coastal area located in Amed, Bali, renowned for its stunning natural beauty and thriving marine life. Situated on the eastern coast of the island, this bay is a haven for divers and snorkelers, offering crystal-clear waters teeming with colorful coral reefs and an abundance of marine species.
Travelers can unwind on the soft sandy shores, take leisurely strolls along the coastline, or embark on adventurous boat trips to explore the surrounding islands and hidden coves.
For those looking to immerse themselves in local culture, the nearby villages offer cultural experiences and mouthwatering Balinese cuisine.
Gili Tepekong, Padang Bai
Gili Tepekong is a small island located just off the coast of Padang Bai in Bali, Indonesia. Known for its stunning underwater landscape, Gili Tepekong is a popular diving destination for both beginners and experienced divers alike.
Padang Bai offers other recreational activities, such as snorkeling, beach hopping, and hiking opportunities in the surrounding hills. Visitors can also explore the nearby Blue Lagoon Beach, famous for its calm waters and vibrant marine life, making it ideal for snorkeling and swimming.
Gili Tepekong and Padang Bai offer a unique blend of adventure, culture, and natural wonders, making them a must-visit destination for anyone seeking an unforgettable experience in Bali.
The Coral Garden, Tulamben
The Coral Garden in Tulamben is a mesmerizing underwater paradise located on the northeastern coast of Bali, Indonesia.
To preserve this natural wonder, conservation efforts have been put in place to protect the delicate marine ecosystem at The Coral Garden.
The Coral Garden in Tulamben offers an unforgettable journey into the heart of Bali's marine biodiversity and an unparalleled opportunity to connect with the wonders of the ocean.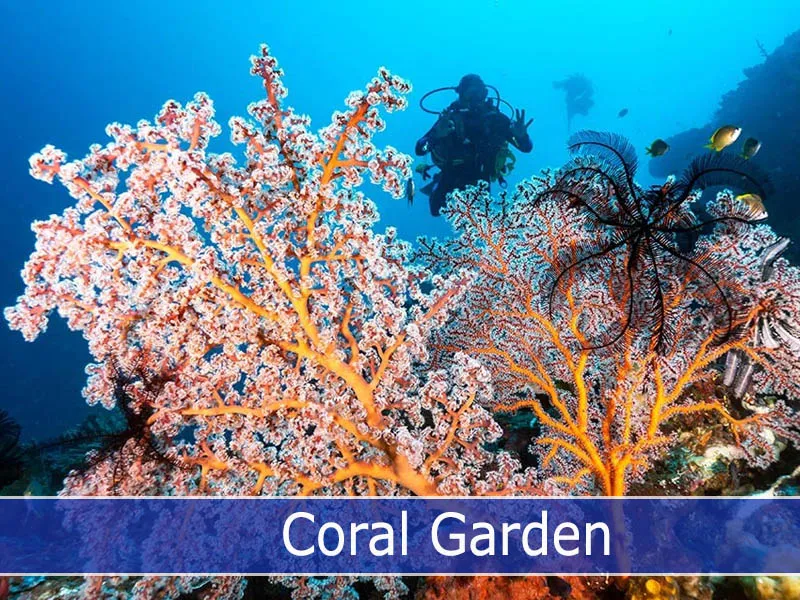 The Drop Off, Amed
The Drop Off in Amed, Bali, is a breathtaking natural wonder that draws visitors from all over the world.
The Drop Off is a haven for both seasoned divers and beginners alike, providing a unique and enriching experience for everyone.
For those seeking a more laid-back experience, this coastal gem provides the perfect escape from the hustle and bustle of other popular tourist spots on the island.
Shark Point, Padang Bai
Shark Point, located near the coastal town of Padang Bai in Bali, Indonesia, is a renowned dive site that attracts both seasoned divers and underwater enthusiasts from around the world.
Exploring Shark Point is an adventure filled with stunning underwater landscapes and a chance to encounter some of the most captivating marine life in the region.
Shark Point and Padang Bai have something to offer every traveler seeking a memorable and fulfilling aquatic adventure in Bali's enchanting waters.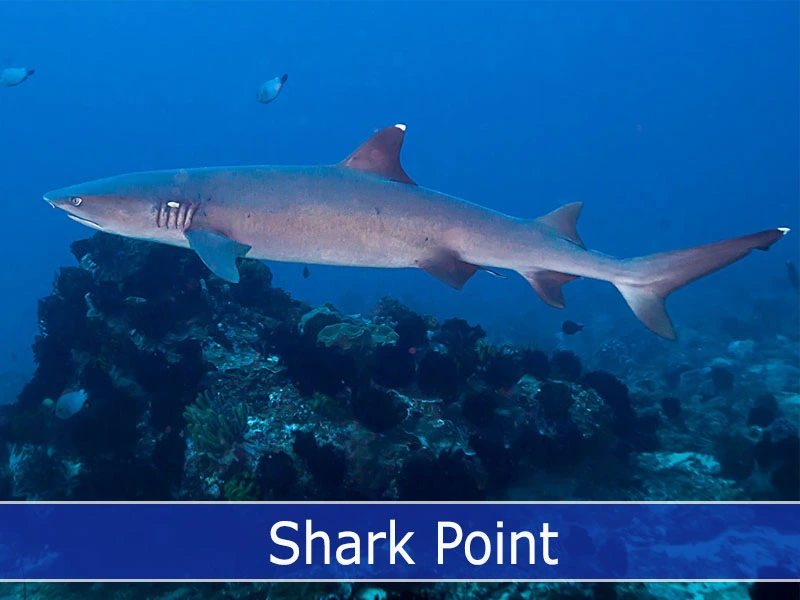 Toyapakeh, Nusa Penida
Toyapakeh is a charming coastal village located on the beautiful island of Nusa Penida, which is part of Indonesia's Bali Province.
The iconic Toyapakeh Temple, a Hindu place of worship, stands proudly overlooking the ocean and serves as a spiritual hub for the villagers. Visitors can witness captivating ceremonies and immerse themselves in the local cultural experience.
The village is also a gateway to other remarkable attractions on Nusa Penida, such as Angel's Billabong, Broken Beach, and Kelingking Beach, each offering its own awe-inspiring natural wonders.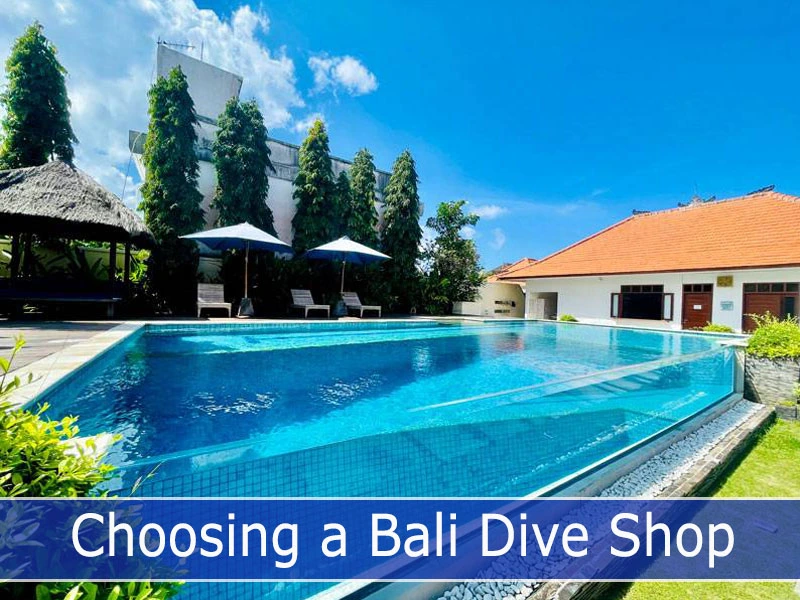 Selecting a reputable dive shop is crucial for a safe and memorable diving experience. Look for shops with well-maintained equipment, experienced instructors, and a commitment to safety.
PADI or SSI certification is a must, and positive online reviews can provide valuable insight. Top dive shops in Bali include Neptune Scuba Diving, Bali Scuba, and Blue Season Bali.
Frequently Asked Questions
A Bali Dive Trip is an adventure experience that allows divers to explore the waters around the island of Bali, Indonesia. Bali Dive Trips are typically organized by professional dive centers and include transportation, equipment rental, and guided dives to some of the best dive sites in the region.
Bali is home to a diverse range of dive sites that offer unique underwater landscapes, marine life, and diving experiences. Some of the best dive sites in Bali include Tulamben, Nusa Penida, Menjangan Island, and Amed.
Yes, you need to be a certified diver to participate in Bali Dive Trips. If you're not certified, you can take a diving course from a certified dive center in Bali.
Bali is known for its rich marine life, which includes colorful corals, schools of tropical fish, rays, turtles, reef sharks, and even manta rays and whale sharks in some areas.
The best time to go on a Bali Dive Trip is during the dry season, which runs from April to October. During this time, the weather is generally sunny and dry, and the water conditions are calm and clear.
You will need to bring your own dive gear, including a wetsuit, regulator, BCD, fins, and mask. If you don't have your own gear, you can rent it from a certified dive center in Bali.
The cost of a Bali Dive Trip can vary depending on the dive center and the package you choose. Prices typically start at around $100 for a single dive and can go up to $500 or more for a multi-day trip with multiple dives.
Yes, Bali Dive Trips are generally safe as long as you follow the instructions of your dive instructor and follow basic safety guidelines while diving.
The length of Bali Dive Trips can vary depending on the package you choose. Some trips may include a single dive, while others may include multiple dives over several days.
You can book a Bali Dive Trip through a certified dive center in Bali. Many dive centers offer online booking options, or you can contact them directly to make a reservation.