Embark on an unforgettable journey from the picturesque shores of Bali to the intriguing natural landscapes of Komodo National Park.
Our Komodo tour from Bali offers a unique opportunity to explore Indonesia's diverse wildlife, stunning marine life, and breathtaking views, all wrapped up in a well-planned itinerary designed with your comfort and enjoyment in mind.
Start from Neptune Scuba Diving in Bali all the way to Komodo Resort, your ideal location for a Komodo island tour from Bali.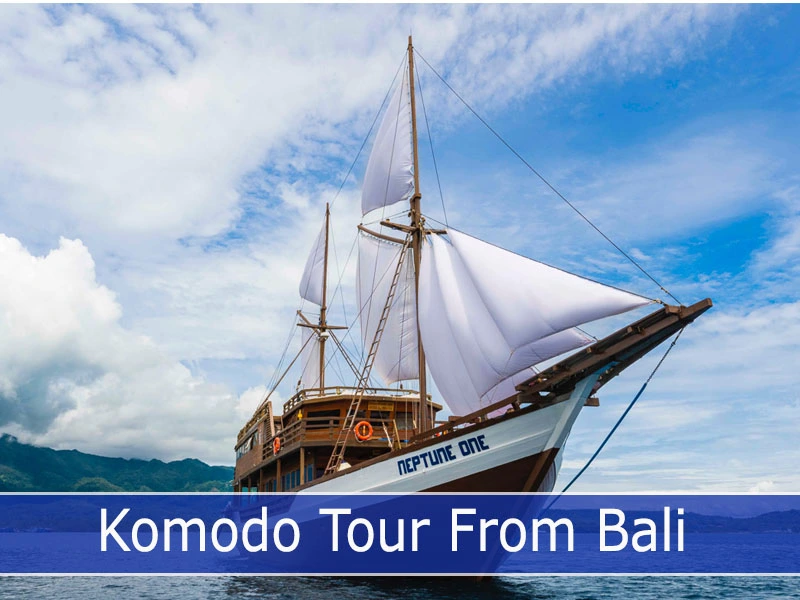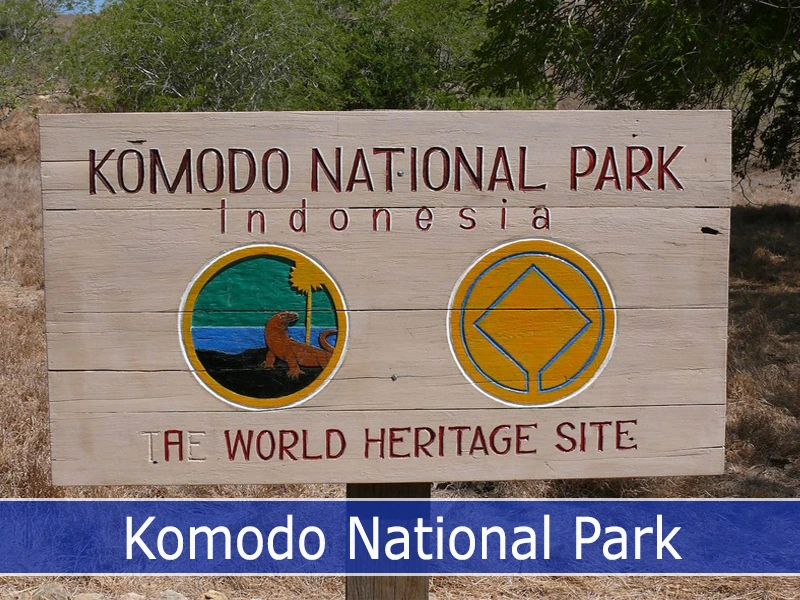 Komodo National Park: A Unique Destination
Komodo National Park, located within the Lesser Sunda Islands, is a UNESCO World Heritage Site and a Biosphere Reserve. The park is home to the world's largest living lizard species, the Komodo Dragon, and offers a rich biodiversity both on land and underwater.
The park encompasses the larger islands of Komodo, Rinca, and Padar, as well as numerous smaller islands, creating a total area of 1,733 km2. It's a paradise for nature lovers and adventure seekers alike.
Your Journey from Bali to Komodo
Your adventure begins in Bali, where you'll depart on an early morning flight to Labuan Bajo, the gateway to Komodo National Park. Upon arrival, you'll be whisked away to your first day of exploration.
The flight from Bali to Labuan Bajo is a short ride of approximately 45 minutes, just enough to enjoy a coffee while being in the air. The Indonesian airlines run flights to Labuan Bajo and back to Bali on a daily basis and often they are sold out which is why we recommend you to plan ahead to ensure you get your spot.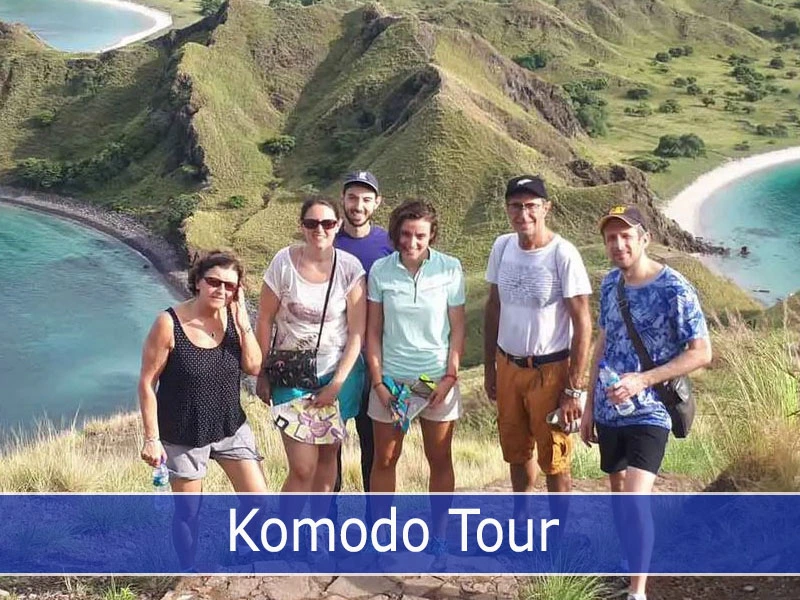 Accommodation and Dining
Inside the town of Labuan Bajo you will find a few, not many, dining options but quite a lot of accommodation choices such as hotels, hostels, homestays and resorts. One of the most popular accommodation options are:
Sudamala Resort
Ayana
Plataran
Lokal Collection
But there are others as well for which we recommend to read online reviews before booking.
Komodo Resort is of course on top of our list because of its service, overall quality and location inside the Komodo National Park. The location alone is such a huge advantage because it will allow you plan your Komodo tour from Bali in the best possible way.
Encounter the Majestic Komodo Dragons
What's one of the main reasons to go on a Komodo tour from Bali? Of course, a one on one meeting with the majestic Komodo Dragons. If you are staying with us at Komodo Resort, you will be able to book a Komodo Island Tour, or if you are focused on diving you should read more about our Komodo Diving.
On the Komodo tour from Bali to see the dragons, you will embark on a one day trip inside the National Park and on to Komodo Island. This is where you will see the dragons in their natural habitat under the direct supervision and guidance of the local rangers.
Hike the Picturesque Padar Island
The Komodo Dragons are one of the highlight but for any Komodo tour from Bali, everyone must stop and hike Padar Island. This place has become the iconic image of Komodo and in truth, of any Komodo tour from Bali.
The hike itself is relatively easy but not recommended for people who have active asthma or knee problems. At the top of the island the view is simply majestic but if you are planning to use a drone here, make sure to purchase a permit first before your start your Komodo tour from Bali.
Explore the Vibrant Marine Life
Komodo National Park is considered one of the world's top diving and snorkeling destinations. Crystal clear waters, colorful coral reefs, and a plethora of marine life including manta rays, turtles, and countless species of fish await you. Whether you're a seasoned diver or a beginner snorkeler, the underwater world of Komodo will not disappoint.
Most of the Komodo tour from Bali will take you on several stops throughout the day and almost always one of them is to snorkel with the Manta Rays.
If you join the Komodo tour from Bali together with us at Komodo Resort, you will undoubtably see at least a couple of these majestic Mantas. Learn more about our Komodo snorkeling packages.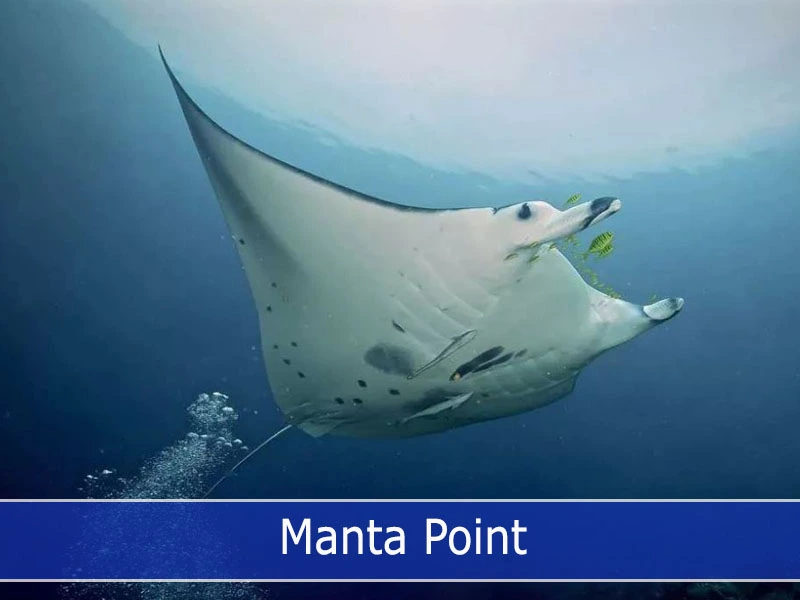 What's Included in the Komodo Tour
Your Komodo tour from Bali includes round-trip flights between Bali and Labuan Bajo, boat trips to Komodo National Park, park entrance fees, guided tours, accommodation, and meals.
Our Komodo island tour package is designed for either divers, snorkelers or simply travelers who want to see the iconic spots inside Komodo National Park.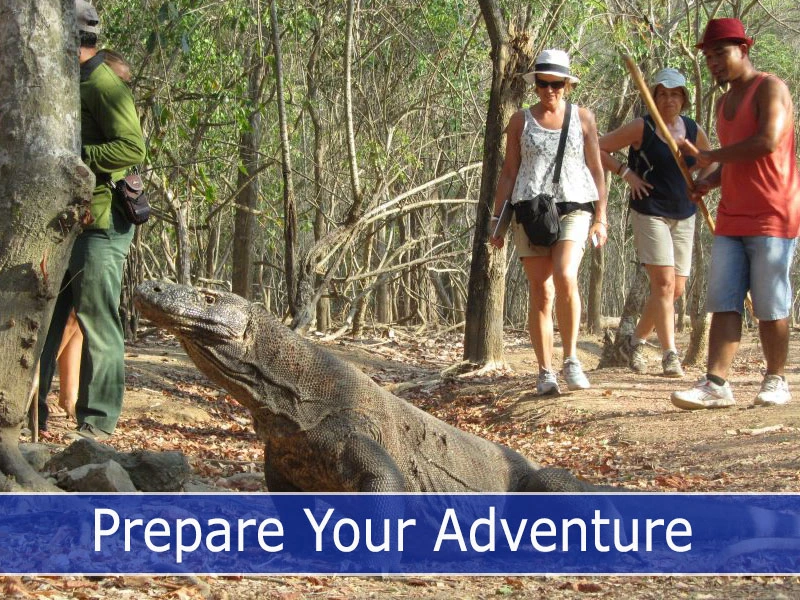 Prepare for Your Adventure
The climate in Komodo National Park is tropical, hot, and humid, so light, breathable clothing is advisable. Don't forget your swimsuit, sunblock, hat, and comfortable shoes for trekking. Remember to pack your camera to capture the incredible experiences that await you.
Embark on the adventure of a lifetime and discover the natural wonders of Komodo National Park with our Komodo tour from Bali. Contact us today to book your trip!
Frequently Asked Questions
A Komodo Tour from Bali refers to a guided excursion that takes you from Bali, Indonesia, to the Komodo National Park, located in the East Nusa Tenggara province. This tour allows you to explore the unique wildlife, stunning landscapes, and breathtaking beaches, while witnessing the legendary Komodo dragons in their natural habitat.
To reach Komodo National Park from Bali, you have several options. The most common method is to take a flight from Bali to Labuan Bajo, a town in Flores Island near the national park. Alternatively, you can also opt for a ferry ride from Bali to Labuan Bajo, which is a longer but more budget-friendly option.
The duration of a Komodo Tour from Bali can vary depending on the package and your preferences. Generally, tours range from 2 to 4 days, allowing you to explore the main highlights of the Komodo National Park, including Rinca Island and Komodo Island, where you can see the Komodo dragons up close.
During a Komodo Tour from Bali, you can engage in various activities. Some common activities include trekking on Rinca Island or Komodo Island to see the Komodo dragons, snorkeling or diving in the pristine waters around the national park to discover vibrant coral reefs and marine life, visiting Pink Beach with its unique pink-hued sand, and enjoying panoramic views from Padar Island.
Yes, it is highly recommended to have a guide for a Komodo Tour from Bali. The national park is vast, and having a knowledgeable guide ensures your safety, provides valuable information about the area, and maximizes your chances of encountering the Komodo dragons. Local guides are well-versed in the park's regulations and can make your experience more enjoyable and informative.
For a Komodo Tour, it is advisable to pack lightweight and breathable clothing suitable for tropical climates, including swimwear, hats, sunglasses, and sunscreen. It is also essential to bring sturdy footwear for trekking, insect repellent, a reusable water bottle, and a camera to capture the stunning landscapes and wildlife. Don't forget to bring any necessary medications and personal items.
Komodo National Park is generally safe for visitors. However, it is crucial to follow the instructions of your guide and adhere to the park's rules and regulations. While the Komodo dragons are usually docile, it is important to maintain a safe distance and not disturb or provoke them. Additionally, taking precautions against sunburn, staying hydrated, and being aware of your surroundings will ensure a safe and enjoyable experience.
The best time to visit Komodo National Park is during the dry season, which typically runs from April to December. During this period, the weather is generally sunny and dry, allowing for better visibility underwater and easier trekking. The peak tourist season is from July to August, so consider visiting during shoulder seasons like April-May or September-November for a less crowded experience.
Yes, there are accommodation options in and around Komodo National Park. Labuan Bajo, the gateway town to the park, offers a range of hotels, guesthouses, and resorts to suit various budgets. There are also liveaboard boats available for multi-day trips, allowing you to stay on the water while exploring the park's attractions.
Absolutely! Many travelers choose to combine a Komodo Tour from Bali with other destinations in Indonesia. Bali itself offers numerous attractions, such as stunning beaches, cultural landmarks, and vibrant nightlife. You can also explore other islands in the Nusa Tenggara region, such as Flores, Lombok, or the Gili Islands, to enhance your Indonesian adventure.