Bali Diving Course: Learn to Dive in the Beautiful Waters of Bali, Indonesia
Whether you're a beginner or an experienced diver. For those who are new to diving in, or looking to improve their skills, Bali offers a range of diving courses to suit all levels and interests.
What Bali diving courses are available ?
Bali has friendly underwater conditions, which allow the performance of all types of diving courses for you. Whether you are looking for PADI Open Water Diver course or the more advanced courses, any dive locations in Bali will provide a safe environment for teaching and learning.
The Bali diving courses available:
PADI Open Water Diver
PADI Advanced Open Water Diver
PADI Rescue Diver
and more.
The theory of each of the diving course with PADI can be conducted online with PADI E-Learning.
Feel free to choose your diving course on the PADI E-Learning website and select Neptune Scuba Diving as your dive center.
Now let's learn more about each and every course that available:
PADI Open Water Diver
PADI Open Water Course is the starting point for those who want to learn how to dive. It is a comprehensive course that covers all the basic skills and knowledge required to become an adequately certified diver.
The course typically takes three days to complete, encompassing theory and practical sessions. The first day involves a combination of pool training and classroom instruction, while the second and third days focus on open-water diving. Upon finishing PADI Open Water Course, you can dive to a maximum depth of 18 meters / 59 feet.
During PADI Open Water Course, divers will conduct four open water dives. Each dive is concentrated on mastering the necessary scuba diving skills, and generally, the last part of the dive allows for some underwater exploration.
The open water divers of this course are usually conducted in two of the most popular dive spots: Padang Bai and Tulamben.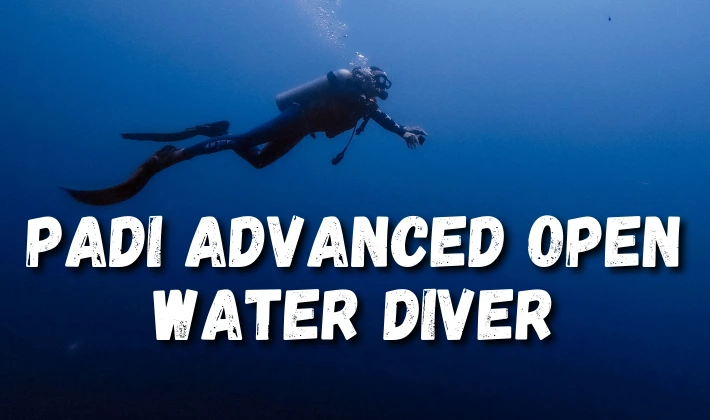 PADI Advanced Open Water Diver
PADI Advanced Open Water Course is designed for divers who have already completed the PADI Open Water Course and want to continue their diving education.
The advanced course covers a range of advanced diving skills and techniques, typically completed over two days of open-water diving. During the PADI Advanced Open Water course, divers complete a total of five dives, with each dive specializing in a different skill or technique.
Of the five specialty dives, two are mandatory: Deep Diver and Underwater Navigation. The diver can choose the other three specialty dives depending on what the dive center provides, but typically, they are:
Fish Identification
Peak Performance Buoyancy
Wreck Diver
Drift Diver
Night Diver
Depending upon the specialties chosen for this course, your dive locations in Bali may vary, but you will receive training under the right conditions. Upon completion, you can dive to a maximum depth of 40 meters, the maximum depth permitted for recreational diving.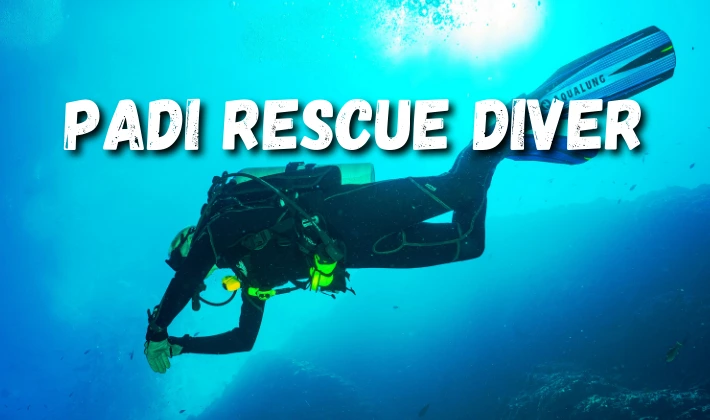 PADI Rescue Diver
The PADI Rescue Diver is a comprehensive two-day course that teaches divers how to handle various emergencies that may arise while diving in. The course is designed to develop the skills and knowledge necessary to prevent, recognize, as well as effectively respond to in-water problems and emergencies.
In short, the PADI Rescue Diver course teaches divers how to recognize and assist anxious or panic divers. How to approach without risking their own lives while trying to help in the difficult moments.
The first day is concentrated on practicing skills in confined water (swimming pool). In contrast, the second day is concentrated on practicing the same skills more in open water for a more realistic simulation under the supervision of a professional PADI Instructor and a buddy role-playing the victim.
The PADI Rescue Diver has two prerequisites: divers must first be PADI Advanced Open Water Diver certified as well as Emergency First Response.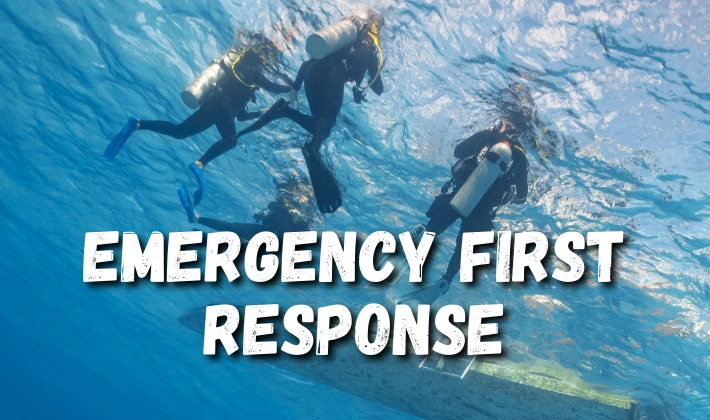 Emergency First Response
This course teaches participants how to respond effectively to emergencies, whether in or out of the water. The course covers a range of topics related to first aid and CPR and is designed for both divers and non-divers.
The EFR course typically involves both classroom sessions and hands-on training exercises and covers the following topics:
1. Primary Care (CPR): Participants learn how to perform CPR and first aid on adults, children, and infants, as well as how to recognize and respond to pediatric emergencies, also use barrier devices to minimize the risk of disease transmission.
2. Secondary Care (First Aid): The course covers a wide range of first aid techniques, including wound care, management of fractures and dislocations, and the management of shock, choking, and other medical emergencies.
3. Automated External Defibrillation (AED): Participants receive training on the use of automated external defibrillators, including how to assess a patient properly, select the appropriate pads, and perform defibrillation.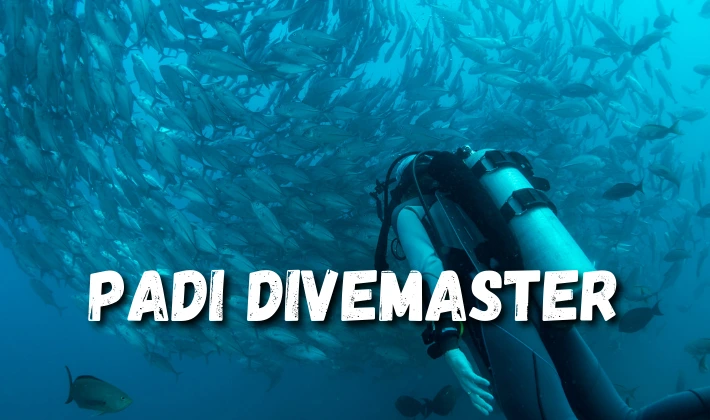 PADI Divemaster
The PADI Divemaster course is the first step in the professional diving career ladder, aimed at developing the skills and knowledge necessary to become a dive professional. It typically takes 4-5 weeks long, although some dive centers advertise it for two weeks. It's both challenging and rewarding, covering a wide range of diving and diving leadership topics.
During this course, divemaster candidates learn the diving business as they conduct an estimated 60 dives if they plan to become a PADI Instructor.
The PADI Divemaster course typically involves both classroom sessions and in-water training exercises while covering topics such as:
1. Dive Theory: Participants receive training on a range of dive-related topics, including physics, physiology, dive equipment, dive planning, and dive environmental management.
2. Dive Skills: The course covers a wide range of dive skills, including dive equipment set-up, dive briefings, dive supervision, and dive leadership. Participants also receive training on assisting instructors with student divers during PADI courses.
3. Risk Management and Supervision: The course covers dive risk management strategies, including dive site selection, dive group management, and dive buddy responsibilities. Participants also learn how to supervise divers in various diving environments effectively.
4. Business of Diving: Participants receive training on the business aspects of diving, including dive center management, marketing, customer service, and dive industry regulations.
Frequently Asked Question about Bali Diving Course
Bali offers a wide range of diving courses, catering to beginners as well as experienced divers alike. Some popular courses include PADI Open Water Diver, Advanced Open Water Diver, Rescue Diver, as well as Divemaster. Technical diving and specialty courses are available, such as Nitrox, Wreck Diving, as well as Underwater Photography.
The minimum age for participating in a diving course varies depending on the course. The minimum age for the PADI Open Water Diver course is ten years old. However, some courses may have higher age requirements.
The course duration in Bali depends on the type and level of the course. For example, the PADI Open Water Diver course usually takes 3-4 days to complete, while the Advanced Open Water Diver course takes about 2-3 days. Some specialty courses may only take a single day or two.
Prior diving experience is optional in most beginner diving courses, such as PADI Open Water Diver course. However, advanced and specialty courses often require previous certification or diving experience.
The cost of a course varies depending on the course type, location, as well as the diving center. Generally, the PADI Open Water Diver course ranges from $350 to $500, while advanced and specialty courses may cost between $200 to $600.
Bali has a tropical climate, making it suitable for diving year-round. However, the best diving conditions are typically from April to November, when the waters are calm, and visibility is excellent. The rainy season, from December to March, may result in lower visibility and rougher sea conditions.
Most diving courses require participants to be in good health and have a basic fitness level. Divers with certain medical conditions, such as asthma, heart problems, or diabetes, may need medical clearance from a physician before participating.
Most diving centers in Bali provide all the necessary equipment for their diving courses, including BCD, regulator, wetsuit, mask, snorkel, and fins. However, some divers prefer to bring their items, such as masks and fins, for a more comfortable fit.
The primary language for diving courses in Bali is English. However, many dive centers also offer courses in other languages, such as French, German, Spanish, and Indonesian. Be sure to check with the specific diving center to confirm the availability of your preferred language.
All reputable diving centers in Bali adhere to international safety standards and guidelines set forth by organizations like PADI, SSI, or NAUI. Instructors will provide thorough safety briefings, ensuring you comprehend and comply with all safety procedures throughout your course.