Nusa Penida is by far the highlight of diving around Bali. The island of Nusa Penida features the best coral reefs, the majestic Manta Rays and during the right season, the elusive Sun Fish also known as Mola Mola.
Learn more about Nusa Penida Dive Sites as part of the Scuba Diving Bali Ultimate Locations Guide
Table of Contents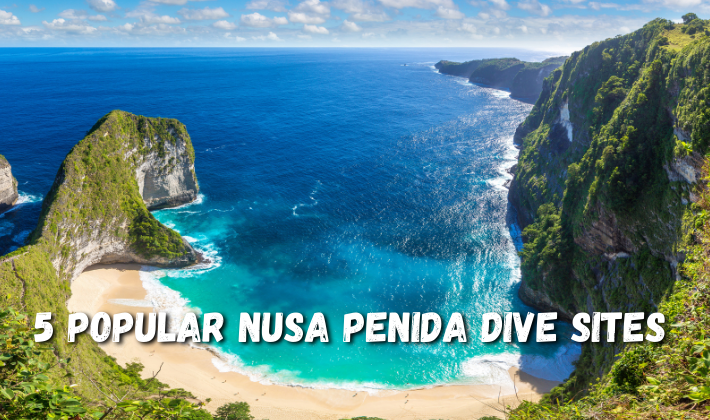 5 Popular Nusa Penida Dive Sites
The most popular Nusa Penida dive sites are undoubtably:
Manta Point
Crystal Bay
SD Point
PED
Mangrove
What to Expect at the Nusa Penida Dive Sites
Expectations are significantly high for the Nusa Penida dive sites because of the richness of the underwater life, soft and hard corals, and the large marine life that can be enjoyed here: Manta Rays, Mola Mola, Dolphins, Sharks, Octopus, Moray Eels, and more.
Both beginner and advanced divers can enjoy diving here. Snorkelers are more than welcomed and even children as young as 7 years old can join the trips.
Coming from Bali, Penida is reachable by speedboat during a 40 minute ride.
Nusa Penida Dive Sites General Overview
Manta Point
Although Penida is rich with dive sites, Manta Point is the main attraction. The dive sites got its name obviously because this is where divers and snorkelers can enjoy being within arm reach from the reef Mantas showing up there.
Although not the best for coral reef, Manta Point packs surprises almost all the time. Alongside the Manta Rays, often people visiting this spot can see Bamboo Sharks and Nurse Sharks, Baby Eagle Rays, Octopus, Dolphins and at a specific spot in the dive site, even Mola Mola during the months of July to October.
Water temperatures during the Mola season ( July to October ) can come as low as 16 degrees Celsius, so make sure to pack a 5mm wetsuit to be able to dive here. Outside of the Mola season, Manta Point is a warm 28-29 degrees Celsius.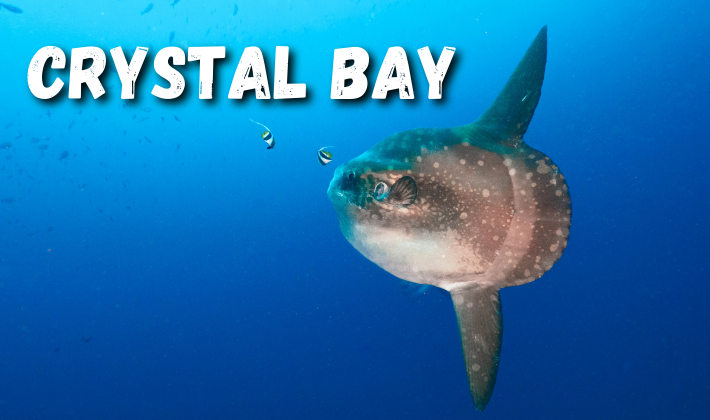 Crystal Bay
Penida's second popular dive site, and a special one as well because this is where divers can primarily dive for spotting the Mola Mola. Crystal Bay is a unique dive site featuring a beautiful beach on the surface, with a long continuous and rich coral reef.
In the depths, most commonly below 30 meters deep and in the cold waters of July to October, advanced divers can dive deep and spot the famous bone fish Mola Mola.
Even though Crystal Bay it's most famous for the Sun Fish, often divers and snorkelers can spot pods of dolphins which has now become one of the main attractions.
Similar to Manta Point, Crystal Bay water temperatures are cold during the months of July to October which enables the Mola Mola to come up from the deep and join divers at approximately 30 meters depth.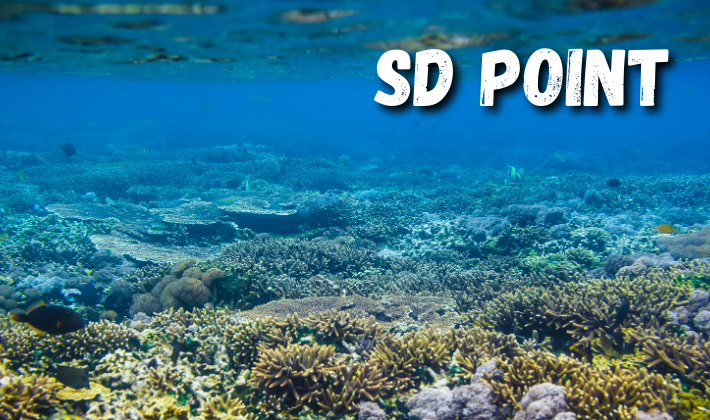 SD Point
Located in the north of the island, SD Point is perhaps the highlight of the Nusa Penida dive sites because this is where divers can enjoy one of the most amazing drift dives of their lives.
SD Point is a continuous never-ending and rich coral reef filled with schooling of fish, where currents are almost always unidirectional allowing divers to perform what we like to call a lazy dive.
Water temperatures are often warmer here compared to Manta Point and Crystal Bay, at approximately 28 degrees Celsius all year round.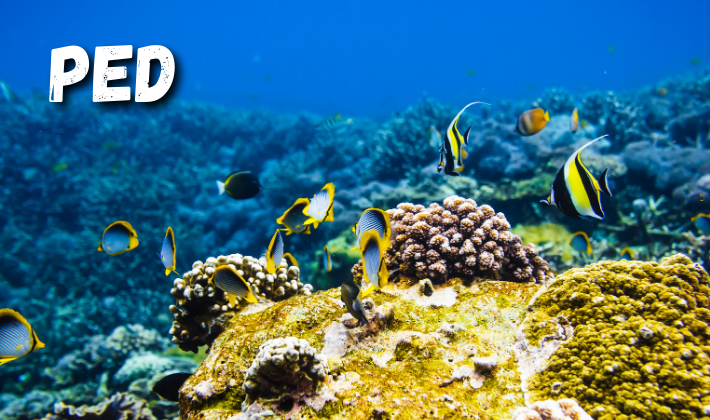 PED
PED is located just near SD Point and as such share all characteristics, often divers confusing the two dive sites. The topography of PED is precisely the same as SD Point, amazing coral reefs packed with diverse tropical marine life and schools of fish making the area a must visit for both divers and snorkelers.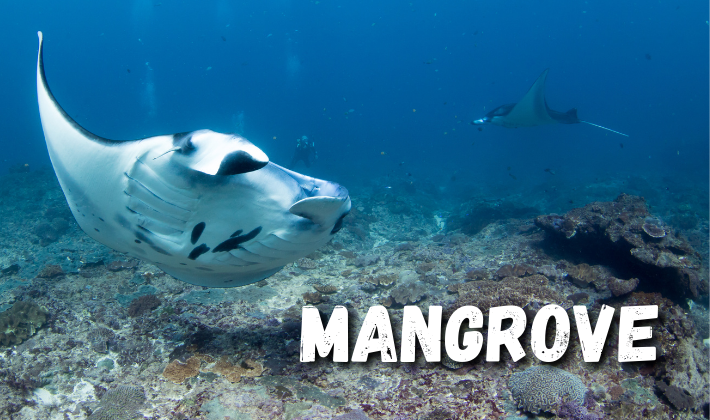 Mangrove
Arguably positioned nearer to Nusa Lembongan than Penida, Mangrove is a simply incredible dive site because of the extremely rich underwater life.
Currents here can be sometimes strong and very strong and water temperatures as cold or colder than Manta Point and Crystal Bay during the Mola season in Nusa Penida.
When the currents are strong, divers are recommended not to dive here and replace with SD Point or PED, but without a doubt, if you believe the two are rich with corals and underwater life, Mangrove is a ten-fold better than any other dive site here.
Is it safe to dive in Nusa Penida?
Yes, it is generally safe to dive in Nusa Penida as long as you are a competent diver and follow proper safety protocols. However, it is always a good idea to check local conditions.
When can you see manta rays in Nusa Penida?
Manta rays can be seen year-round in Nusa Penida, but they are most commonly spotted during the dry season from April to October. The best time to see them is in the morning and evening.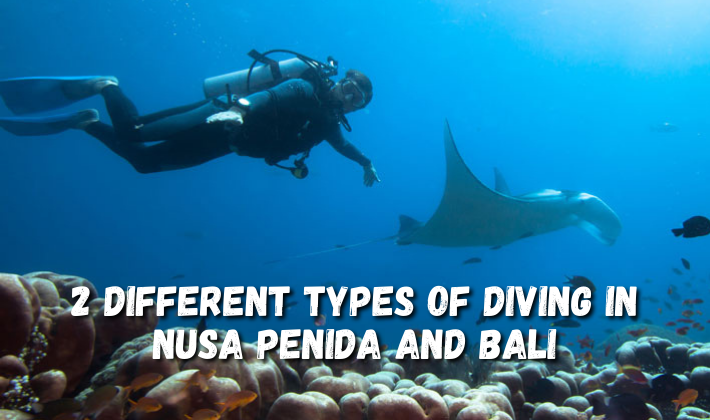 2 Different types of diving in Nusa Penida dive sites and Bali
1. Drift Dive
Nusa Penida features different type of diving compared to Bali. For courses as well as for drift dive lovers, Nusa Penida is the only area where drift dives can be performed in the famous spots SD Point and PED.
Drift dives here are most commonly gentle drifts powered by slow unidirectional currents. However, sometimes the currents can perform high speeds that will make the dives quite exciting but not suitable for beginners.
2. Deep Dive
Although Bali provides plenty of opportunities for deep dives, Nusa Penida has more things to see when going deep. This is simple to understand because when doing deep dives in Nusa Penida, you can spot the Mola Mola.
Sharks and Dolphins are often seen during the deep dives here, but the same deep dives are also suitable for special courses.
Diving safety in Nusa Penida
Safety above all and extra safety is good safety, this is what we always say. Although Nusa Penida is suitable for beginner divers, even advanced divers must apply additional safety when diving here.
When the weather is not friendly, diving in Nusa Penida can be dangerous. Manta Point often displays some waves while the drift dives can have currents so strong it will be impossible to do any diving.
Crystal Bay is infamously world known for occasional strong down currents while Mangrove is sometimes extremely challenging with multidirectional currents.
Best season for diving in Nusa Penida
The beauty about diving in Nusa Penida and just like in Bali as well, is that there is no best season and diving is almost always perfectly suitable.
Of course, the months of the rainy season and particularly January and February, makes diving a little bit less enjoyable. Visibility can be up and down and dramatically changing from one day to another but diving is possible nonetheless.
Some may say that the best season to dive in Nusa Penida is during June, July and August, but that at the same time is also when the water is the coldest, to the surprise of all.
We say the best season is whenever you want to do it but we do recommend to manage expectations especially during the rainy season here.