Komodo is Indonesia's hottest new place to be, the next Bali as it's being promoted. The most popular tourist attraction for Komodo is scuba diving and the best way to explore Komodo is with a Komodo Liveaboard trip.
Komodo is part of the best diving destinations for Indonesia Liveaboard.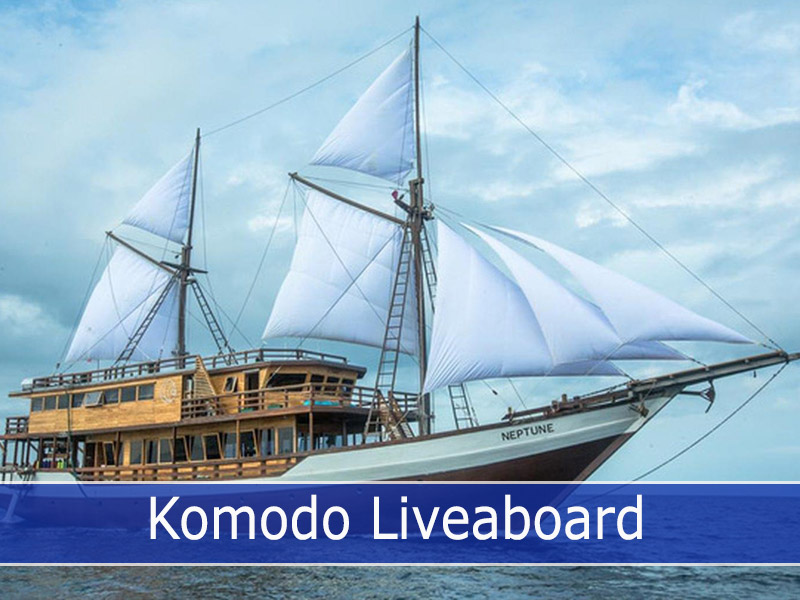 Komodo Liveaboard: What is it?
A liveaboard is a type of boat that allows divers to spend several days exploring the underwater world without returning to shore such as a dive center or dive resort. Komodo liveaboard trips typically last from three to ten days, and divers can choose from a variety of itineraries. Different boats, different services and in Komodo National Park there are tens if not more than 100 Liveaboard vessels.
To explore Komodo National Park, using a Liveaboard is the best choice but divers can also enjoy almost all of the popular dive sites starting from Labuan Bajo or another dive resort located near the park such as Komodo Resort on Sebayur island.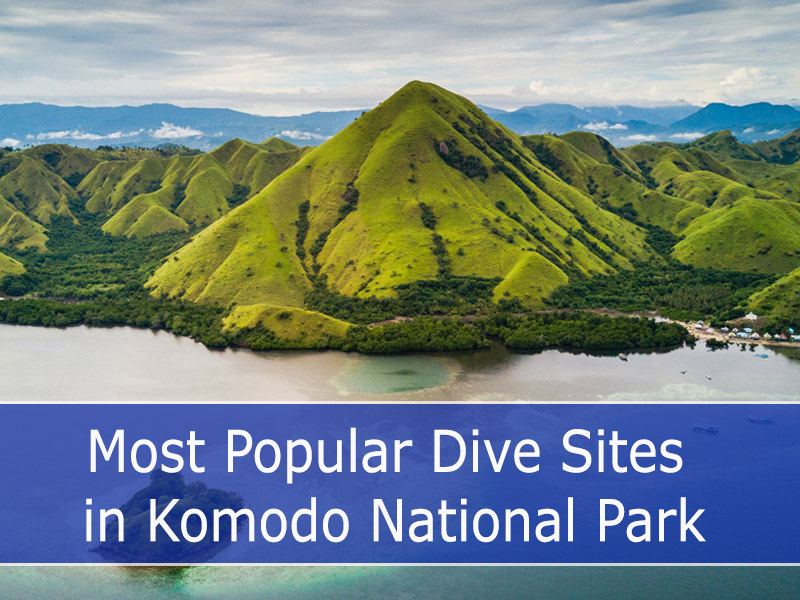 Most Popular Dive Sites in Komodo National Park
Komodo National Park offers a variety of dive sites suitable for divers of all levels. But Komodo is famous for strong or unpredictable currents. Most of the dive sites in Komodo are more suitable for advanced divers with minimum Advanced Open Water certification and 40 logged dives. Here are some of the most popular dive sites in the park:
Batu Bolong
Batu Bolong is the most popular dive site in Komodo National Park and for a very good reason. The coral reef in Batu Bolong is simply stunning and most likely you have never seen coral like that. The dive plan for Batu Bolong is a zig zag dive starting from approximately 20 meters, diving on the side of the rock which is Batu Bolong.
This dive site is known for its strong currents and challenging conditions if diving here in the wrong moment. So diving Batu Bolong is more suitable for experienced divers. The site is home to a variety of marine life, including reef sharks, barracudas, and giant trevallies but often dolphins are seen hunting here.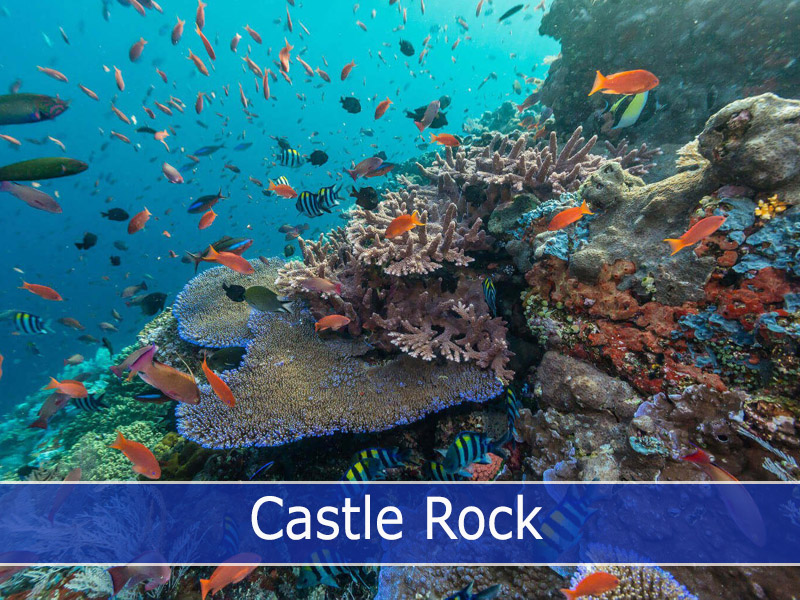 Castle Rock
Castle Rock is another popular dive site in the park, located in the northeast of Komodo Island. The site is known for its impressive underwater rock formations, which attract a wide range of marine life, especially sharks such as White Tip and Grey Tip Reef sharks. The sharks here can be seen hunting here when diving with the right currents. Yet another dive site which is special for advanced divers.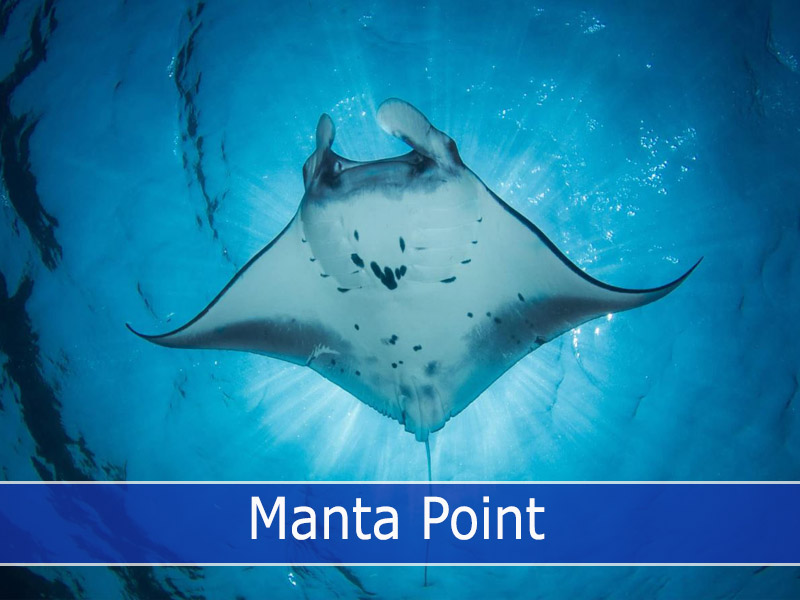 Manta Point
Manta Point is a popular dive site for divers who want to see majestic Manta Rays and fortunately this is typically a dive site that can also be done by less experienced divers. Typically it's a drift dive on top of a rocky sandy bottom, finishing on top of a coral reef formation. Divers can expect to see schools of manta rays, as well as reef sharks and other marine life.
Manta Point is not the only dive site where mantas can be seen. The others are Mawan and Manta Alley but Manta Alley is more difficult to reach as it's located in the south of the Komodo National Park.
It is famously known that when mantas are not seen in Manta Point, they are surely in Mawan.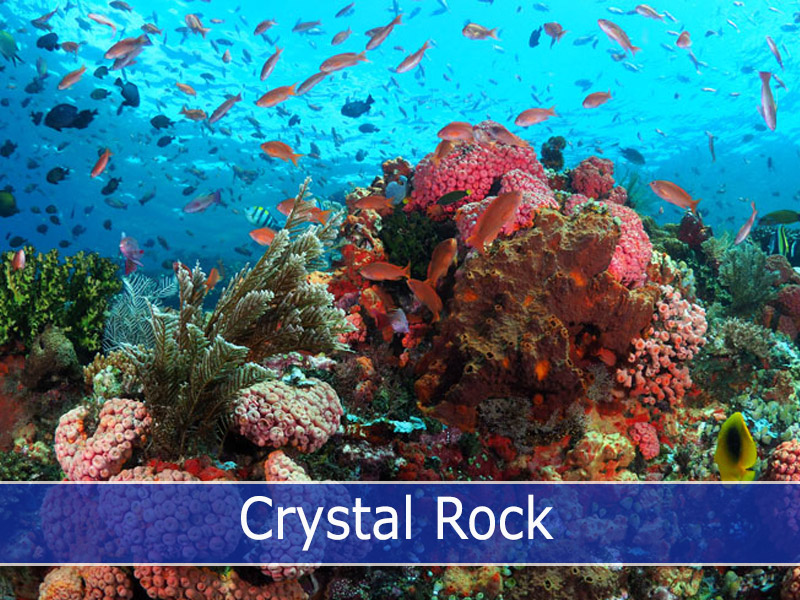 Crystal Rock
Crystal Rock is a dive site similar to Castle Rock and located nearby one another. The site is known for its crystal-clear waters, which offer excellent visibility for divers. Sharks, giant trevallies, and schools of fish can be seen here. Like all the other dive sites, Crystal Rock is also famously known for strong currents so this is not suitable for beginner divers.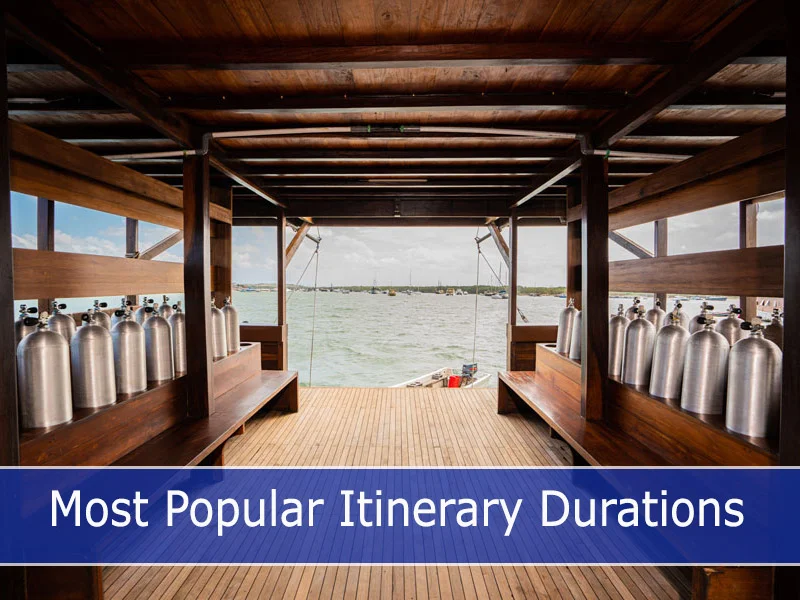 Most Popular Itinerary Durations
Komodo liveaboard trips typically last from three to ten days, with most divers opting for a five or seven-day itinerary. The itineraries will also depend on the Liveaboard divers choose as the vessel come in different shapes and sizes. The duration of the trip also depends on the number of dive sites that divers want to explore and their experience level. Here are some of the most popular itinerary durations for Komodo liveaboard trips: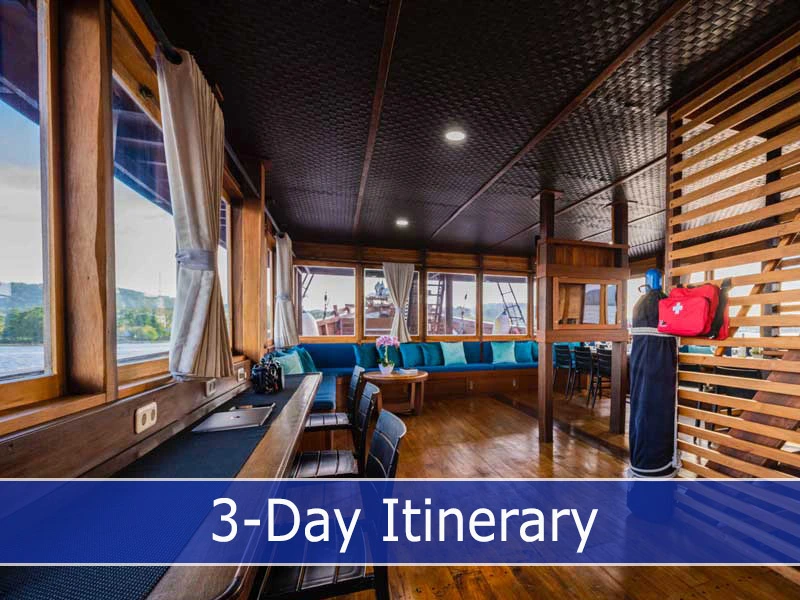 3-Day Itinerary
A three-day Komodo liveaboard itinerary is perfect for divers who want to explore just the most popular dive sites like the ones mentioned above. This itinerary typically includes three to four dives per day and visits to sites such as Manta Point, Batu Bolong, and Tatawa Besar.
With the 3 day itinerary sometimes it's also suitable for snorkelers.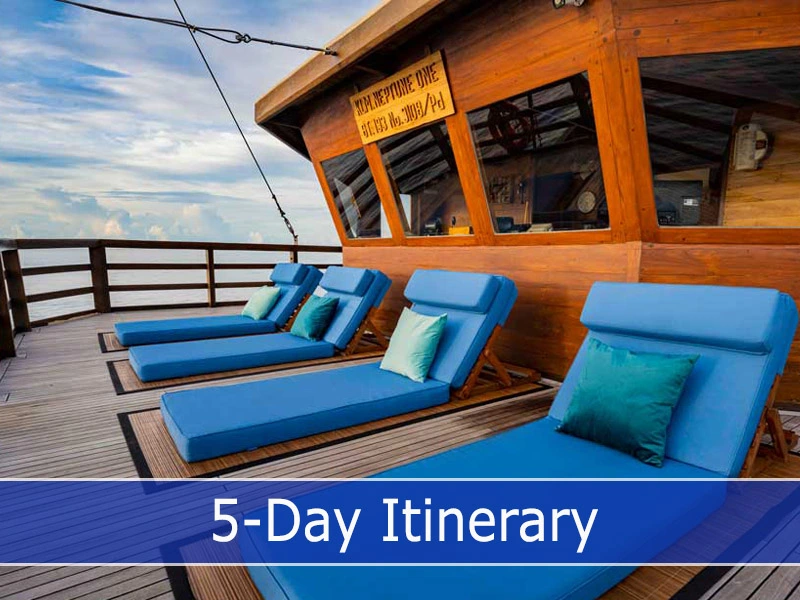 5-Day Itinerary
A five-day Komodo liveaboard itinerary is a popular choice for divers who want to explore a wider range of dive sites in the park to go through the North, Central and South of Komodo National Park. This is one of the itineraries that takes divers to the south to visit the famous Manta Alley.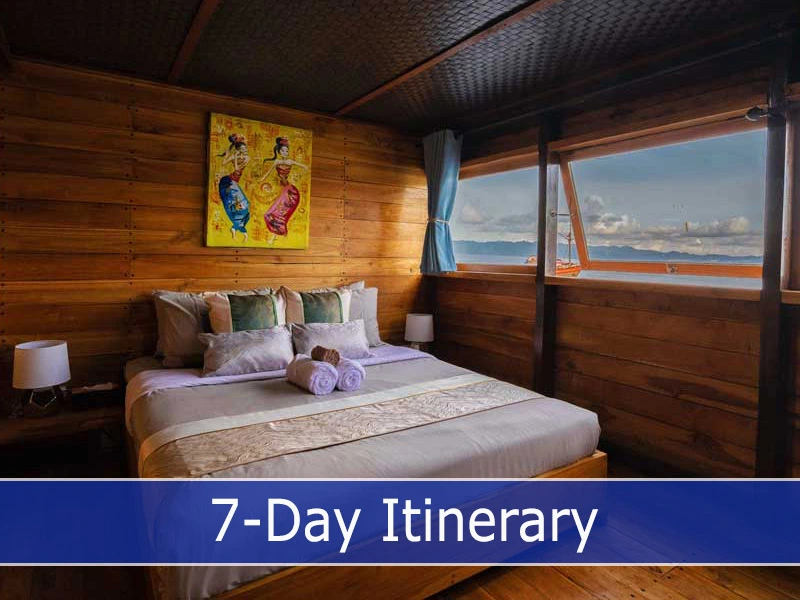 7-Day Itinerary
The seven-day Komodo liveaboard itinerary is perfect for divers who want to explore the entire national park and log approximately 18 – 20 dives. This itinerary is the most preferred by advanced seasonal divers or underwater photographers. With three or four dives per day including night dives, divers can truly experience the full scope of Komodo.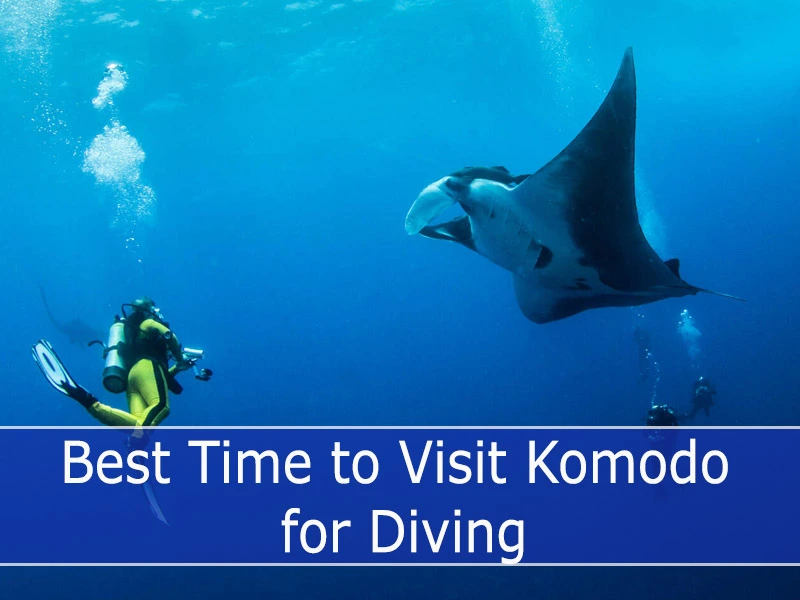 Best Time to Visit Komodo for Diving
As any other diving destination, there is a good time and a bad time to visit Komodo. The best time to visit Komodo for diving is from April to November, which is the dry season in Indonesia but also when the water conditions are the best such as waves and underwater visibility. During this time, the visibility is excellent, and the water temperature is warm, ranging from 26-30°C. However, it is important to note that the water temperature can drop to 22-24°C in July and August, so it is recommended to bring or request a wetsuit with the Liveaboard.
Visibility is best during this time but it can vary depending on the dive site and the conditions. Mother Nature sometimes brings surprises. Some dive sites, such as Batu Bolong and Castle Rock, are known for their strong currents, which can impact the visibility sometimes.
Other Things to Do in Komodo
Aside from diving, Komodo National Park offers more things to do which makes the time spent here much more enjoyable. Here are some of the best things to do in Komodo: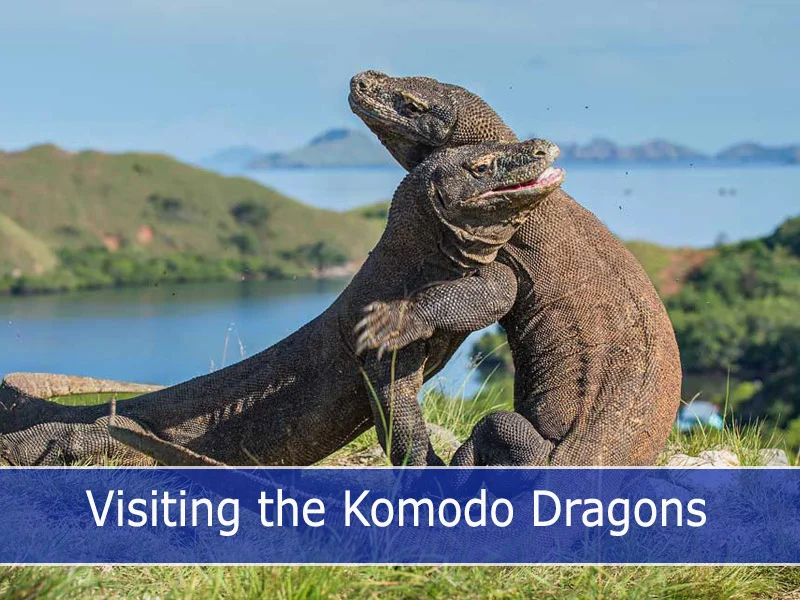 Visiting the Komodo Dragons
Almost all of the Komodo Liveaboard vessels visit Komodo or Rinca Island, the two only places where the Komodo Dragons can be observed. There is a big difference between the two islands because on Komodo Island the dragons are free and can be observed in their natural habitat. Rinca Island has been developed by the government and converted into a type of park with predefined routes so observing the Komodo Dragons here will be more like a safari zoo.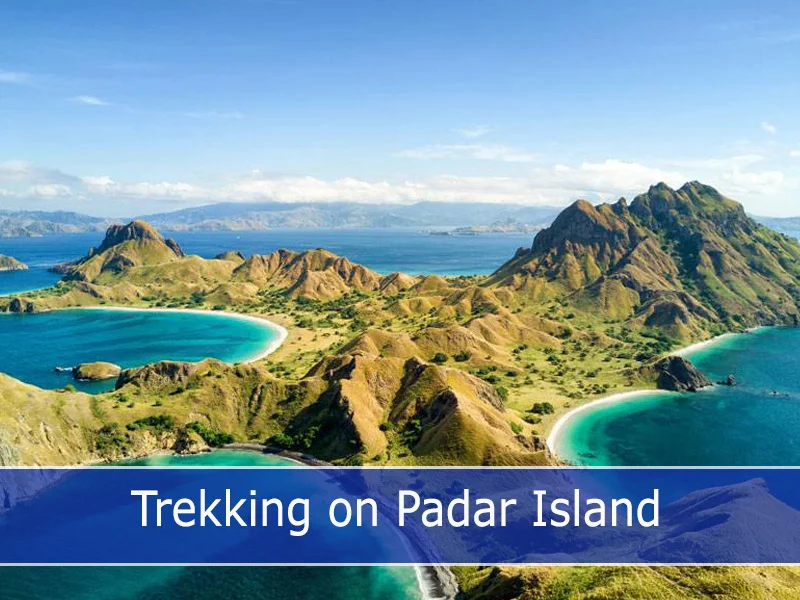 Trekking on Padar island
This is where the iconic picture of Komodo National Park is taken. A relatively easy trekking will take you on to of the Padar island. It's suitable for children and for elderly and although there are stairs for this trek, if you have difficulties with your knees, it's best to avoid doing this activity.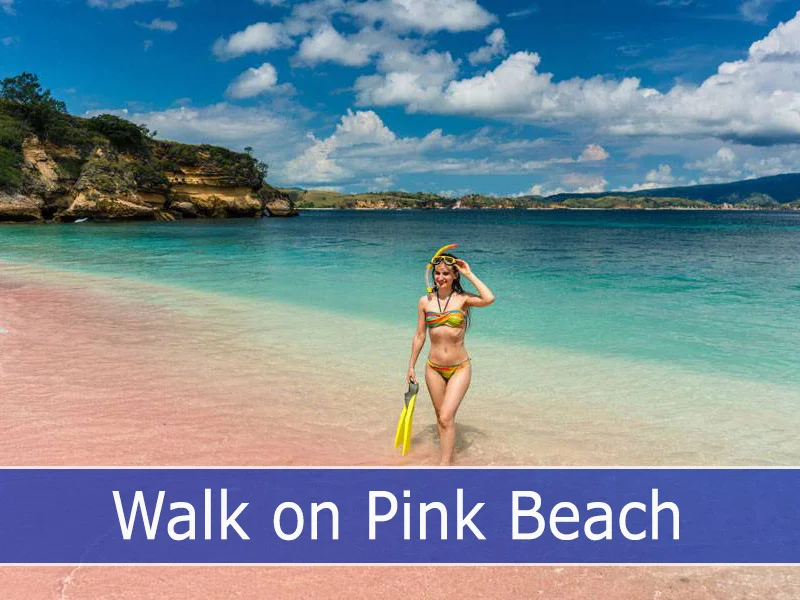 Walk on Pink Beach
Yet another beautiful activity to join in Komodo National Park, the stunning Pink Beach. Either you plan to do Komodo snorkeling here is simply walk around to take a few pictures… you will be amazed by Pink Beach, a must visit place which is done by all of the Liveaboard vessels.
Frequently Asked Questions about Komodo Liveaboard
A Komodo Liveaboard is a type of boat or yacht that is designed for scuba diving and snorkeling trips to the Komodo National Park in Indonesia. It provides a platform for divers and snorkelers to explore the underwater world around the islands of Komodo.
A typical Komodo Liveaboard trip lasts between 3 and 7 days, depending on the itinerary and the dive sites visited. Some liveaboard trips may last longer, up to 10 days.
The diving on a Komodo Liveaboard trip is varied and can include everything from gentle, shallow reefs to deep, challenging dive sites. The Komodo National Park is known for its incredible biodiversity, with over 1,000 species of fish and 260 species of coral.
The best time of year to go on a Komodo Liveaboard trip is from April to November, when the weather is dry and the visibility is at its best. The water temperature is warm all year round, so diving is possible at any time of the year.
The cost of a Komodo Liveaboard trip typically includes accommodation, meals, diving or snorkeling equipment, and the services of a dive guide or instructor. Some trips may also include airport transfers and land-based excursions.
The accommodation on a Komodo Liveaboard can vary depending on the boat and the price point. Most liveaboards offer shared cabins with bunk beds, but some also have private cabins with en-suite bathrooms.
No, you do not need to be a certified diver to go on a Komodo Liveaboard trip. Many liveaboards offer introductory dives or snorkeling trips for beginners.
You should pack light, comfortable clothing, swimwear, sunscreen, a hat, and insect repellent. You should also bring any personal diving or snorkeling equipment you have, such as a wetsuit or mask.
Yes, the Komodo National Park is considered safe for diving and snorkeling. However, it is important to follow the safety guidelines of your dive operator and to respect the marine environment.
You can book a Komodo Liveaboard trip through a travel agent or directly with a dive operator. It is important to research the different options and read reviews from previous customers to find a reputable operator.