Curious about learning diving ? Do it with the PADI diving course Bali, the famous 3 days PADI Open Water Diver course in Bali.
Bali's diverse underwater life is a magnet for all of the island's visitors around the year. The beginner friendly conditions allow even uncertified divers to experience scuba diving with the introductory Discover Scuba Diving program.
But when thinking of what most popular of them all, it's without a doubt starting and learning diving with the Bali diving course. A highly interactive and fun three days course that takes you from beginner to certified diver in a matter of no time.
Our PADI diving course Bali starts from our dive center in Sanur. We provide hotel transportation from almost all of the island's south and west coasts and we take care of all necessary logistics during the course to allow you to focus on learning and not worry about absolutely anything during the three days spent with us.
Day one of the PADI Open Water Diver course is a combination of class-room work and pool training. It is the first step, the introduction to the diving equipment, the basic scuba diving principles and all the necessary safety concepts.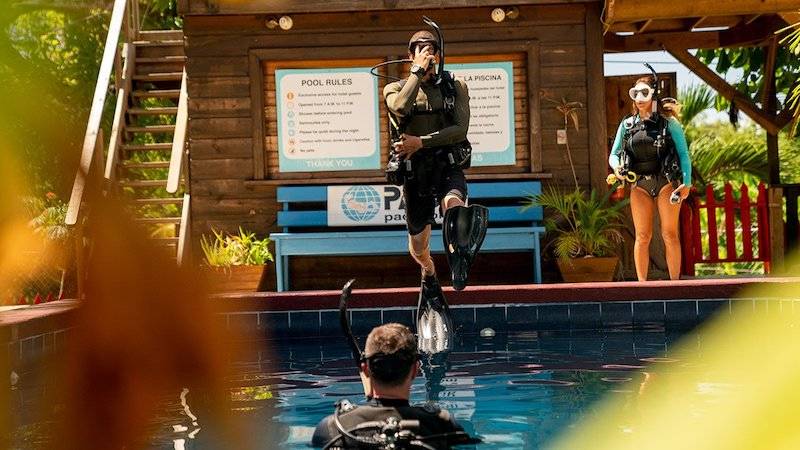 During the pool training session you will practice all of the diving skills you need to master to be able to become a certified open water diver.
On the day two and day three, we step foot into the wonderful underwater world conducting a total of four dives in two of the Bali dive sites, Padang Bai, Tulamben or Sanur.
The four open water dives are a combination of learning and fun. The first part of the dives are concentrated on practicing the already learned skills from day one. The second part of the dives, generally approximately 20 minutes, we do underwater exploration and observe the beauty of the diverse tropical marine life.
Bali offers a variety of things to see underwater. In Padang Bai we get spoiled with beautiful coral reefs, turtles, octopus, moray eels, and all of the incredible fishes we want to see. Tulamben is home to the world famous USAT Liberty shipwreck while for the more lazy travelers, Sanur is a good option for finishing the course quickly without long car travels.
Learn more about the PADI diving course Bali or order the e-Learning directly from the PADI website.