Scuba diving in Bali is famous for many reasons but it is also the ideal location to become a PADI PRO with the PADI Divemaster course in Bali, a 4 weeks intense training.
In a dive center, the Divemaster is perhaps the most important person. All divers will look to the divemasters for assistance, for advice, for guidance. As a PADI Divemaster you are the leader, the one person that everyone looks up to and that comes with great responsibility.
The PADI Divemaster course in Bali takes a total of 4 weeks to complete. A proper 4 weeks of training during which you will be conducting a total of 60 dives and various workshops and physical tests to ensure that you properly qualify for the famous position as a PADI Divemaster.
In some dive centers you may be offered shorter versions of the divemaster course but that is not the correct way to do it. Considering the divemaster curriculum provided by PADI, it is literally impossible for the course to properly be conducted any less than 4 weeks. Even so, in some circumstances 5 weeks are necessary to properly complete all the course requirements.
How is it going to be on a daily basis?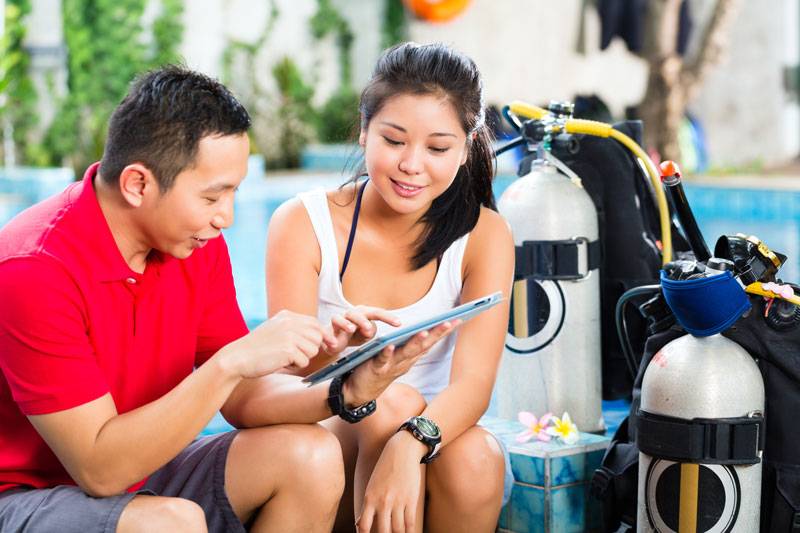 As a candidate of the divemaster course in Bali you will be diving almost each and every day to complete the various scuba diving requirements. We will not be going into details but a few of the requirements are: taking on the Discover Scuba Diving program, understanding underwater topography and drawing dive maps, etc.
With Neptune's PADI Divemaster Course you will receive an experienced mentor instructor. Throughout your workshops and from almost the very beginning, you will begin pool workshops with your mentor instructor to begin understanding and learning the teaching sequence of and various other safety related necessities which will stay as the foundation of your future career as a PADI Divemaster.
Your days will start early morning at approximately 7AM and will most likely finish daily at approximately 5PM. Days off are not on the menu but you do have your time to rest during your multiple workshops at the dive center. Anyway, you're here to get wet right ?